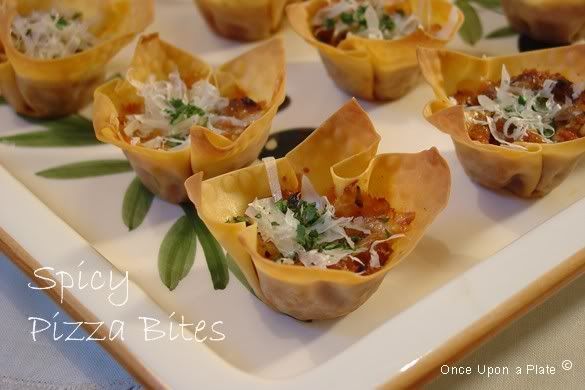 This is an easy appetizer or a little warm snack to go along with a simple salad. You can make them up to the point of baking early in the day to serve that evening, so they make a good pass-around at a party, or on a warming tray on the buffet table.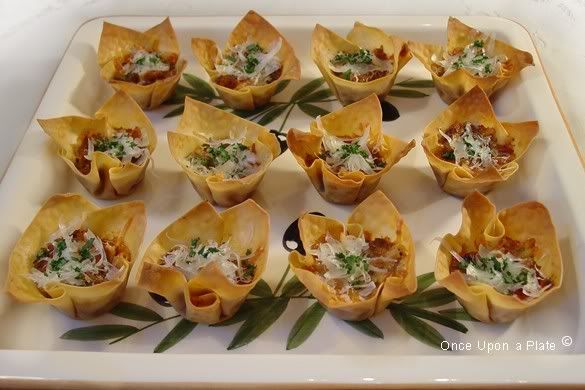 Preheat oven to 350* (F). Lightly brush one side of wonton skin with oil, tuck (oil side down) into mini-tart pans.
Fill with your favorite Pizza toppings & sprinkle with grated parmesan.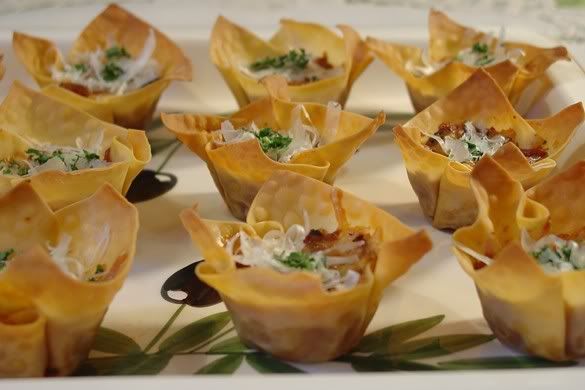 For these shown in the photos, I browned some sweet Italian sausage,drained the oil very well, added extra fennel seeds, chili flakes, oregano and fresh minced garlic then stirred in some homemade marinara & cooked it down until it was thickened. (Marinara from the jar would work just as well.) By all means, use your imagination, anything you like on a pizza would work well; pesto, artichokes, ratatouille, olives, etc.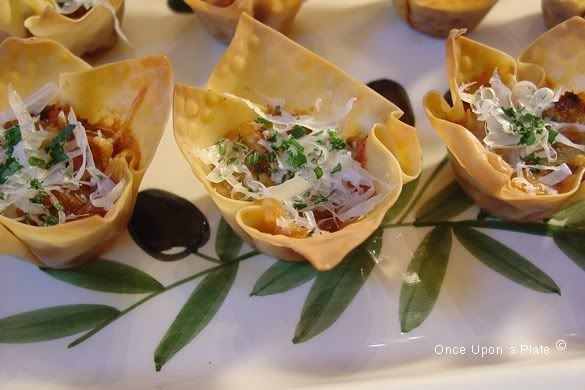 After the sauce mixture cooled a bit I stirred in some grated mozzarella cheese, then spooned it into the wonton cups & sprinkled with some Parmesan shreds.

Place in oven until wonton wrappers begin to lightly brown and sauce mixture bubbles (about 15 to 20 minutes or so.)
Reduce oven to 325* (F), loosely cover the pizza bites with a foil tent (so the tops don't become too brown while the sides and bottoms continue to bake ---about 10 minutes longer.) Check by lifting one up to see the progress; if you don't bake them long enough they tend to be chewy. When done remove the little tarts from the pan and allow to sit on paper towel to absorb any extra oil.

I sprinkled with a few extra Parmesan shreds and some minced parsley for color before serving.
Serve hot, or warm.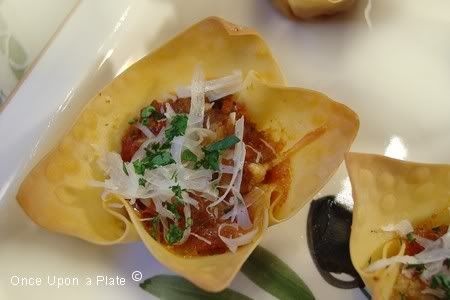 If you make them, I hope you enjoy!