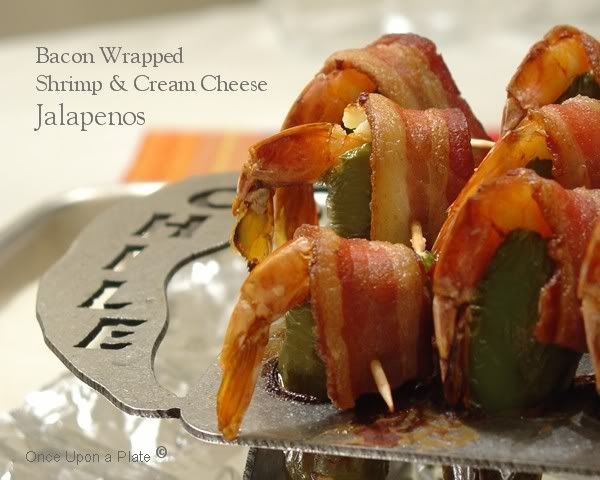 I don't make these very often, but they are fun to serve at summer parties, or casual events like a
Superbowl Party, etc.
I bought the grills online from
http://irondesert.com/
a couple of years ago for a Mexican-themed summertime party.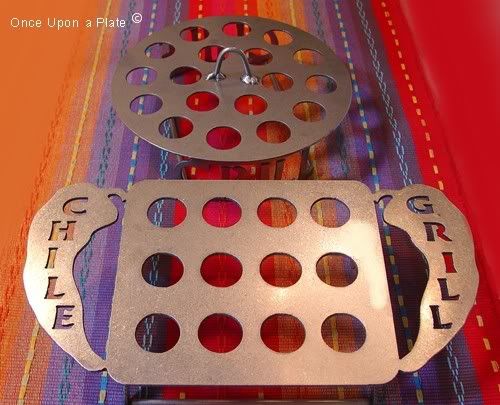 The company manufacturer's many different styles of chili grills;I chose these two smaller grills rather than one large one so I could keep the peppers coming, hot off the grill for a crowd.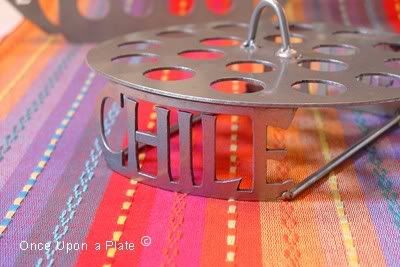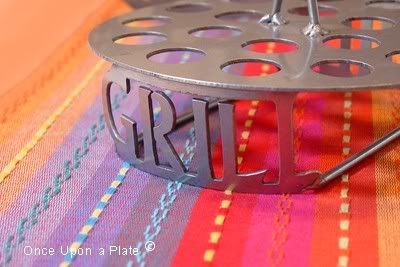 One small grill makes more than enough for 3 to 4 people,
more if you are serving lots of other appetizers. Handmade, and very sturdy.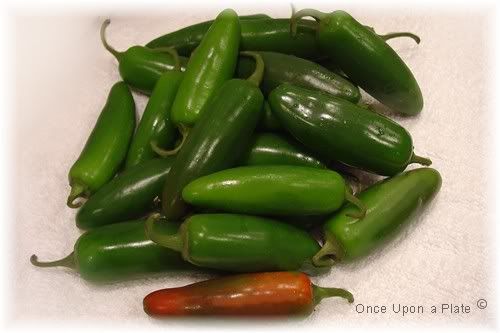 The "heat" of each crop of jalapenos can vary widely,from mild to very HOT, so beware.
(I prefer the milder ones, but this particular batch was very hot.)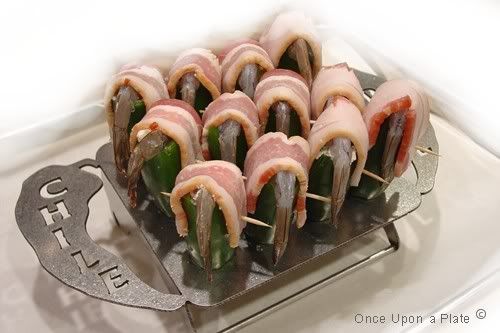 Ready for the oven, or covered grill.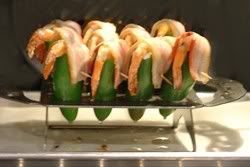 Usually I make these on the covered outdoor grill, this time I baked them in the oven.
The basic directions: Wash the peppers, cut the stem end from each, scoop out the seeds and ribs with a 1/4 teaspoon measuring spoon, using a toothpick poke a hole in tip end of each pepper, fill them any way you would like, standing each in the chili grill as you fill them.
Then simply bake or grill for 50 to 60 minutes.
You can find all kinds of suggestions on the Iron Desert site (link above) for serving ideas My favorites are the plain cheese, or the shrimp/prawns with cream cheese.
If you're using a fresh meat, you'll need to poke a hole in the bottom of the pepper with a toothpick to allow juice to drain.
Allow them to cook for 50 to 60 minutes; allow them to cool slightly before passing
(you'll want to give your guests a napkin with each one.)
Shrimp Jalapenos1 shrimp for every pepper you're fixing (20-30 count size)Cream cheese
Shake some Tony Chachere's seasoned salt (or any seasoning you like) on the peeled shrimp and stuff them head first into the jalapenos.
Fill up the gap at the top of the jalapeno with cream cheese. Bacon on the top of this one is mandatory.
Poke a hole in the bottom of the jalapeno with a toothpick so it can drain as it cooks.